Minority Report totally called this one. But also Iron Man…and a bunch of other sci-fi movies set in what is now the near future.
This week in gadgets making the leap from sci-fi to consumer reality: BIRD.
Not the most compelling name of all time. It isn't catchy, doesn't give you half a clue what the product is, and a quick Google search would never return anything remotely relevant (good luck ranking for the term 'BIRD').
So if you've assumed BIRD is some kind of drone, I don't blame you; I did too. But it's so not that at all.
What BIRD is, is a wearable that slides onto your forefinger and can be coupled with a TV or projector to effectively convert any space into a large interactive surface. The 20-gram device adds gesture-based input over a distance of 300 inches to any screen streamed from an Android or iOS phone. It is also compatible with Windows and Mac computers.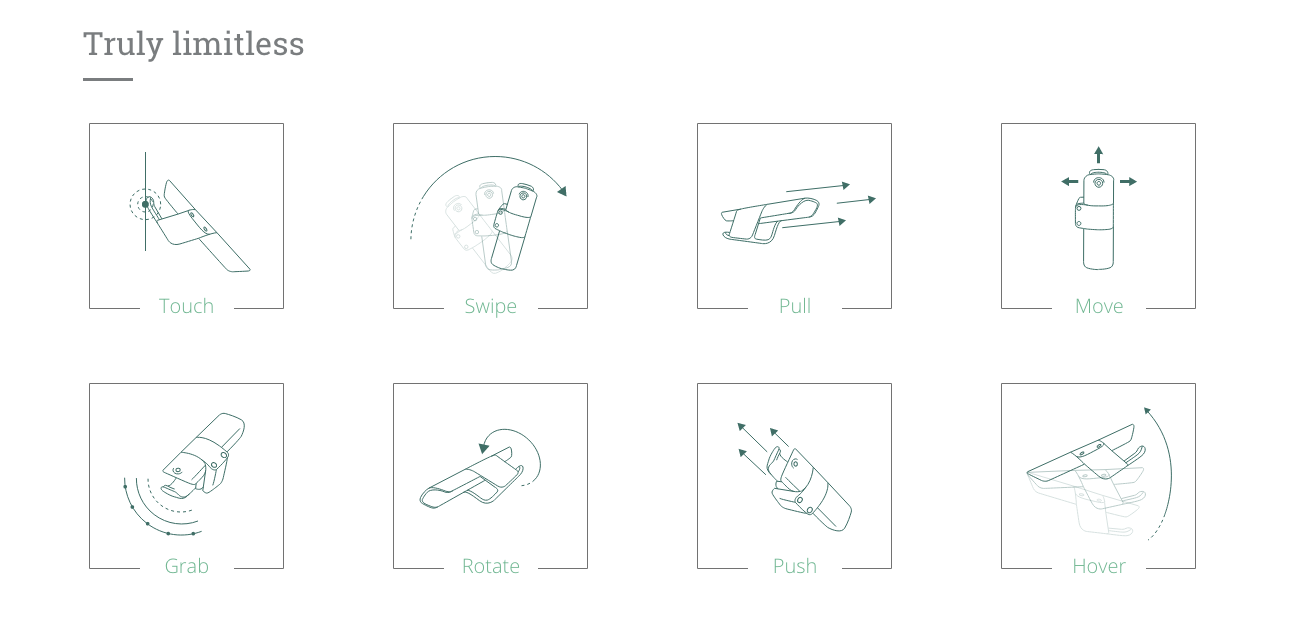 BIRD isn't just a replacement to a projector remote, though. A number of sensors have been fitted onto its minuscule body to make more advanced functionality possible. For example, there's a microphone on board to accept voice commands. There's also a capacitive surface which registers taps and swipes.
The wearable streams data from its sensors to a base unit, which processes the information and proceeds to issue commands over a Bluetooth connection. Accompanying the hardware is a partner app with plugins to facilitate communication between the BIRD and essentially anything with compliant software specifications.
There are a few use cases MUV Interactive envisions for its creation. The most obvious application is in giving immersive presentations, wherein presenters can interact with 3D models using the device. But things get way cooler when you realize it can be used to control anything that is compatible with your smartphone or computer.
A lot of smart home appliances can be manipulated using an Android or iOS phone. According to the MUV Interactive website, any Internet of Things (IoT) gadget running compliant software can be controlled using BIRD. It isn't clear yet if the company plans on opening the platform out to developers to allow for more seamless integration with different hardware types.
Also on the list of things that fall under the purview of BIRD's abilities: drones. There are a few manufacturers in the market for consumer drones, and some that can be controlled using a smartphone. Below is a video of BIRD being used to fly a drone.
The ease with which this can be done in the real world remains to be seen.
Though poorly named, BIRD is a significant entrant to the fledgling world of wearables. Presently, gesture-control is primarily associated with gaming consoles like the Microsoft Kinect and Nintendo Wii. BIRD is among the first few devices to use such forms of input in applications other than games.
More importantly, BIRD is a piece of hardware that could serve to unite the various disassociated components of our connected homes. In the future, consumers are either going to be limited to one platform like Android, iOS, or Windows, or put up switching between those platforms to interact with various smart home devices. With BIRD, it would be possible to own appliances across manufacturers and platforms and interact with them without having to unlock a phone or boot a computer.
As of this week, BIRD by MUV Interactive is available to the public and retails at $249. That includes the cost of the base unit, a cradle that also acts as a portable charger, and apps for installation to your smartphone or computer. The first 10,000 units are being made available at an introductory price of $149 on their website.
Latest posts by Prateek Jose
(see all)