Graduating from Madison, Wisconsin's gener8tor accelerator last May, Allergy Amulet closed their seed round Sunday and expect to have totaled $1.1 million in funding led by New York-based Colle Capital. The startup created a special wearable sensor (the Amulet) and accompanying polymer testing strips (that get inserted into the Amulet after swabbing food) to enable people to test food they eat for contamination from allergens.
With a food allergy affecting an estimated 15 million Americans, Allergy Amulet has attempted to spot a market—similar to that of gluten-conscious world ripe for the Nima sensor—of people who can't have enough peace of mind when they eat outside of their homes.
Initially the strips test for tree and other kinds of nuts, but different allergen strips are on the company's strategic roadmap. The small form-factor allows people to test food while they are eating out or eating food prepared by others; prime-time for contamination.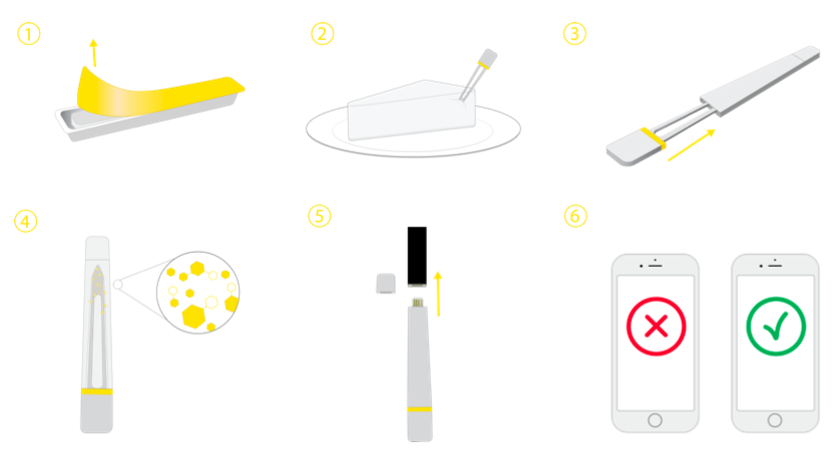 Not having a food allergy myself, it seems like a good idea. However, the company also doesn't promise that the device will prevent reactions. It seems to be messaged more as an additional tool for peace of mind and caution, rather than outright safety. With implosions like Theranos fresh in the minds of consumers, investors and partners, that messaging approach may not be good enough for market success.
I asked cofounder Abi Barnes about the challenges the landscape may present. Her response was more focused on accidental cross-contamination than food preparation itself.
"Most people with allergies are thoughtful about the foods they order, and take certain precautions when dining out or eating foods prepared by others," explained Barnes. "They inform waitstaff, request substitutes, etc. But sometimes in between food preparation and consumption, cross-contamination can occur—say a dollop of peanut butter was on the server's hand and gets wiped onto the plate accidentally."
Abi continued, "If the peanut butter is on a part of the plate that our device didn't test, we may not have captured that area of contamination. For this reason, the Allergy Amulet is intended to bring additional peace of mind to those already taking precautions and will not serve as a substitute for those important safeguards."
I spoke to Troy Vosseller, cofounder of the gener8tor accelerator. While not expressing a great deal of detail, he did express confidence in the diversity and experience behind the Amulet. "Abigail is combining her expertise as a lifelong food allergy sufferer and entrepreneur," explained Vosseller, "with the technical expertise of her co-founder Joe [Dr. Joseph Belbruno]."
The business model is set up nicely for profit; the sub-$300 device could generate up-front revenue while the testing strips offer a comfortable path of recurring revenue at a couple of bucks a piece (likely sold in packs). Then there's the aesthetic appeal; it isn't too hard to find certainty taking a back seat to peace of mind when something just pulls an outfit together.
Latest posts by Jay Donovan
(see all)