If you've been living under a rock, or perhaps a really large iPhone for the last several months, you may not have heard that smartwatches are struggling. Last month the IDC reported that only 2.7 million smartwatches were shipped in the third quarter of 2016—that's more than a 50% drop from the same time last year.
The struggle is real at the very top too; in Q2 of this year, Apple Watch sales dropped almost 57% YOY, and some industry analysts are projecting that by the end of 2016, total Apple Watch shipments will have been cut 15-25%. Not even Dr. Oz could drum up substantial excitement over a smartwatch he endorsed that is designed to save your life; the iBeat barely squeaked out alive from its Indiegogo campaign raising just 102% of its modest $50,000 target from a meager 427 backers.
So it may seem strange that the Matrix PowerWatch launched yesterday boasting really only one notable selling point: you never have to charge it because, using advanced thermoelectric technology, it is powered by body heat.


"Smartwatches are pretty big right now and they're constantly changing," says Dr. Anne Ruminski, Senior Engineer at Matrix Industries. "A big problem with them is having to charge them frequently…I'm a marathon runner and I wear my GPS watch all the time, and I get really frustrated with it dying in the middle of a run and not knowing my pace and so on. Battery power is getting better, but I still have to charge it every couple of days."
Beyond its infinite battery life, as some media outlets have been quick to point out, the Matrix PowerWatch offers very "little" by way of exciting features; there's the table-stakes step counter and sleep tracking, 50 meters of water resistance, and, by way of its heat-based technology, a more accurate counter for calories burned. Is that enough to get consumer interest ticking?
To some degree, yes. The Matrix PowerWatch Indiegogo campaign has only been live for one day and it has already raised over 180% of its $100,000 goal; just in the time it took to write this article, new backers submitted more than double that initial objective.
But as exciting as this early support is, even Ruminski will tell you that the real thing for which to watch is the other types of small electronic devices in which their patented technology could be applied. The Matrix might look like a smartwatch, but ideally for everyone involved, it plays out more like a vehicle.
"Putting our technology in a watch is a really hard problem because you have to put it in a very small little package, you have to have a nice design, so that's all tricky," explains Ruminski. "So we thought if we could branch into this market, then going into the other markets after that should be much smoother sailing."
At its core, Matrix industries is not a smartwatch company. Matrix Industries is an "energy harvesting" company that uses thermal engineering technology to efficiently and effectively manage power. When it comes to the local software and the companion app that carries the user experience of the Matrix PowerWatch, the bulk of that work will be outsourced to a specialized dev shop. The same strategy has been applied to the design and hardware of the styled watch body itself.
The real heavyweight (but lightweight) technology from Matrix Industries—low-cost thermoelectric, heat management and boost converter technology that has more than four years of work and a few patents behind it—is all about the underlying ability to take the heat from your body and use it to power a small electronic device, without having the device overheat. Your imagination doesn't need to run wild to envision a path this kind of innovation might take.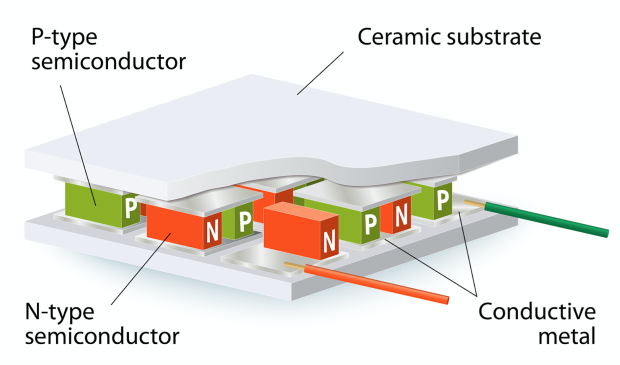 "We're looking at other areas in the future too," says Ruminski. "For instance, medical devices, like batteryless hearing aids."
That is music to a lot of people's ears. In 2015, US sales of hearing aids increased 7.2% from the year prior, and projections show that 2016 will likely see about 3.7 million units move, marking a follow-up 10% jump. The global hearing aids market is estimated to be worth $4.5 billion as of 2015, and it is only expected to grow over the next seven to ten years. There is also probably a great deal of room for innovation in cardiovascular devices and likely in the rapidly evolving world of prosthetics.
"We're also looking to go into smart logistics," Ruminski explains. "Powering sensors that could be on pallets and shipping containers to keep track of them wirelessly without having to change the batteries often." She says that those are just a few examples and that the company is exploring "a lot" of other avenues for the future.
And there are a lot of potential avenues; for small devices, their technology just requires a small ambient temperature differential to generate power. "The watch has been sitting on my desk the past couple of weeks and I've been watching it flicker on and off with the power charging depending on the air conditioning in the room and the heating," says Ruminski. "It is receiving power even though it's not on my wrist."
In the company's five-year existence, it wasn't until about 9 months ago that they really zeroed in on a smartwatch as the flagship format for their technology. The development progress in such a short time has been impressive, not to mention the funding, coming from places like the University of Michigan and Sand Hill Angels, and now of course a rapidly growing 6-figure injection from Indiegogo.
The interest is not without merit. The Matrix PowerWatch is certainly pretty cool; it looks pretty slick, it provides some helpful information, and of course, as long as you wear it regularly, it never needs to be charged. Chances are though, time will tell a much bigger story for this kind of technology.