I, like most Americans, woke up today feeling a little hungover. A 12-hour-long, down-to-the-wire election had culminated with the election of the first reality TV president. Almost everyone was surprised by the result, including the Trump campaign, which had been making excuses for a potential loss leading up to the result—like voter fraud and a Clinton conspiracies. What were Americans thinking as the tides changed and a wake-up call spread across the nation? If you look at what people were searching on the web, you get a pretty clear picture.
The Morning Of…
Good News from Guam
The first results looked good for Clinton, with the number 1 trending story being about how Guam went to the Democrats. Historically, this has predicted election results.
The Royal Family
One of the inexplicable trending stories, and one that continued throughout the day, was Meghan Markle, Prince Harry of England's new girlfriend. This is for US search results, mind you. I was surprised by our fascination with the royal family in this trying time. Could we be craving one of our own? Or a distraction from the ugliness of democracy?
Whatever the case, the fact that people were more interested in royal gossip than our own election said to me: "People aren't watching this election closely enough." At the time, I still regarded this as favorable to Clinton, assuming that embarrassed white people were staying home. They were—they just happened to be embarrassed white Democrats, as well as female, black and Hispanic Democrats.
Bay-Z
Beyoncé and Jay-Z were top trending stories early on, both for their support of Hillary Clinton and the fact that they've come to represent everything that is wrong with America to some Republicans. This has been another surprise this election, since I thought Beyoncé was one of the few things we all agreed on. Did you watch her 2013 Superbowl performance? She owned it like a modern day Whitney or Tina. Since then though, with the release of Tidal and a move towards political performances, she has become a pariah on the right and a darling on the left.
How Do I Vote?
Many of the other top trending stories exposed the volume of people that had procrastinated when it came to their civic duty. Despite the powerful Democratic registration machine (I had a nice young girl come to my house and register me), most people were too busy to prepare for the process. Queries like "when do polls open" and "find my polling place" were ranked 3 and 5 of the top trending searches yesterday. "Vote online" was number 13 a little later on, meaning that over 20,000 Americans were saying: "you mean I can't do it online?!" at some point on election day.
Summary: First results looked good for Dems, but other searches revealed a general disinterest in the election and ignorance about how to vote—as well as some fantasizing about distant royal families and celebrities here at home.
The Night Of…
The Virginia Turn
I tuned back in right as Virginia turned towards Trump. Immediately one of the top trending stories became the NY Times, who had been reporting the percentage likelihood of each candidate winning. They showed 52% Trump, and that number would keep ticking upwards like a slow hand counting down the end of Democratic leadership.
Democrats Didn't Show Up
Florida polls began trending as they appeared to be one of the last dim hopes to turn the tides back in Clinton's favor. Prognosticators had predicted that Michigan, Arizona, and Wisconsin would be key battleground states, but no one had predicted Virginia going for Trump, and a lot of people thought Florida would be a Hillary win too.
As the night went on and districts reported, a clear difference between Clinton's numbers and Obama's 2008 and 2012 numbers began to emerge. Approximately 10 million fewer people voted than in 2008 and 2012. Hispanic turnout was especially low. Considering how immigration became one of the primary issues in this campaign, this was a shock. The Hispanics who did vote, voted for Clinton at lower rates than they had for Obama.
Legal Weed
The only significant victory for progressives in this campaign was legal weed in California. As the Young Turks concluded late in the evening, as the path to victory for Clinton narrowed: "we're going to need it."
Stock Market Plummets and Rebounds
As most people got wise to the impending demise, some people got wise to the opportunities for wild swings in the stock market—buy low, sell high, right? World markets dropped during the election as the world economy reeled at the thought of a Trump presidency. In the time since, however, as many investors had predicted, the DOW Jones has largely rebounded.
Summary: The unwarranted optimism of the Democrats (Huffington Post had the chances of Hillary winning at 98%) certainly kept some people from the polls. In contrast, Trump stirred up his supporters in the days leading up to the election with the looming threat of voter suppression from "you know whos" and a conspiracy to not count Republican votes. His supporters had an obstacle to overcome, not just a perceived cake walk to walk. This became evident as Virginia, a solid blue state for the last two elections, started to veer towards Trump at around 7 pm PST. It would eventually go to Clinton, but few of the other important battleground states did the same.
The Morning After…
No More Royal Family News
For the first time since I started checking, Meghan Markle was not one of the top 20 trending searches. Apparently we'd woken up from a dream of royal intrigue to a reality show of our own making.
Donald Trump/Adolf Hitler
This comparison was trending highly. The anti-Trump crowd is very, very scared, with reporters openly discussing whether or not they would be punished for being as anti-Trump as they have been.
Celebrities Weighing In
From Amy Schumer to Omarosa Manigault, the old heel from the first season of the Apprentice. In a twist of fate, the most hated character on the show became a Trump lackey. Now she's telling other Republicans that Trump is keeping a list of people who have betrayed him. As a black woman who was villainized on Trump's TV show, the fact that she is still behaving like a company woman shows how powerful Trump is. This election, which seemed to surprise everyone, has apparently elevated one major message: Don't fuck with Trump.
I've felt the fear myself; I almost created a video laying out Trump's sexual assault violations, and I felt some relief that the camera had failed me. This of course is nonsense, but it's still fear. Serious courage will be required to put a check on the Trump train. Journalists can sense that the good will of the American people won't be there to protect them when Trump starts building his shit list. Of course, this fear isn't anything new, it's just expanded. Julian Assange and Chelsea Manning are thinking, "yeah, welcome to the club."
Summary: Fantasy gets replaced with fear.
If there's any good news here for Democrats, it's faith in the great pendulum of history. The truth is, this is all part of our country's natural swings—between compassion and strength, Democrat and Republican—that we've been following since the beginning.
Four years ago, Republicans felt exactly the way Democrats feel right now. I know because my girlfriend's parents listen to Rush Limbaugh and they've been visibly afraid—and I mean afraid—of the Obama administration. We have a hard time relating to our opponent's concerns, and that's exactly why things trend back and forth so dramatically. We are opposed, and so far, we have dealt with that by taking turns.
Democrats typically take over when the economy is doing poorly, and poor people get out to vote; Republicans tend to win when the economy is doing well, and rich people feel taxed enough already. It's in line with Karl Marx's conflict theory, or the idea that progress comes from two or more diametrically opposed groups fighting for power.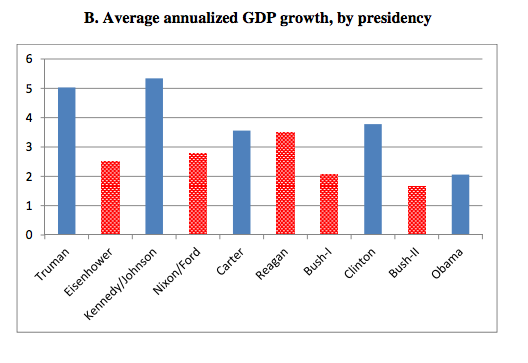 It's all natural, in other words. Of course, something being "natural" isn't much consolation when you consider that AIDS is natural, but at least it gives people some context. It's not that the world is much more racist or classist than it was before; it's that a bunch of people hit their tipping point, and they aligned with moderate people who were tired of the status quo. And here we are: hungover, wondering what the hell we've just done. Fortunately or unfortunately, we've been here many times before.
—————————–
Feature image via HEATSTREET

Latest posts by Devin Greene
(see all)