"If you had told me Facebook was going to build a plane, I would have told you you were crazy."
Mark Zuckerberg was referring to Facebook's solar-powered plane Aquila, but if you were to time travel from 2004 to 2016, most of what Facebook announced at this year's developer conference would sound pretty crazy. The social network has come a long way since its FaceMash days, reaching a stage where complex hardware is as much a focus as playful software.
Mark Zuckerberg laid out a roadmap for the next decade of Facebook's advancement at this year's F8 conference – here is a look at some of the highlights.
Surround 360 Virtual Reality Camera
Facebook made its intentions in the field of virtual reality clear when it spent a boatload of cash on Oculus. Now that it has the system in place, it has turned its attention to VR content.
To encourage the production of that content, Facebook built the Surround 360 camera. The rig boasts a 17-camera array to capture 360 degree video at 60 fps in up to 8k quality. The software that accompanies the camera  is web-based, and renders video automatically.
What stands out about the camera isn't just its hardware or software, but the fact that both of those have been open-sourced. Facebook wants developers to build on the system and make VR content creation more accessible, so soon, it will put up the code for the camera's software on Github. They will open-source the reference designs as well.
Facebook Messenger Chatbots
Your future customer service rep is going to be a bot, and Facebook wants you to get in touch with it through Messenger. The feature has implications for both business and customers.
Businesses will now be able to deploy an army of chatbots on Facebook's Messenger platform. These will be equipped with artificial intelligence and natural language processing capabilities, which they'll use to provide customer support and mine data for targeted advertising efforts.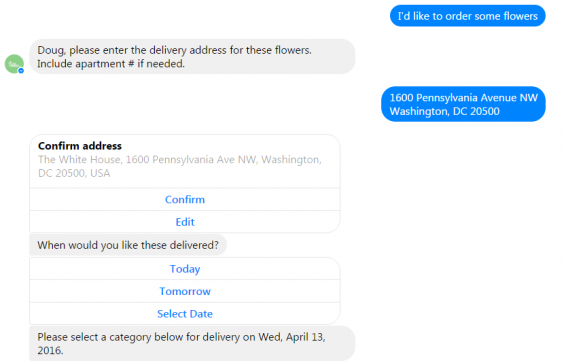 For customers, this means being able chat with businesses instead of having to go through the usual phone calls, red tape, and heartache. For starters, certain 1-800 services have got on the platform to take orders and track reservations. Facebook's  Send/Receive API lets bots reply with text, links, images, call-to-action buttons etc.
The proliferation of chatbots also probably signals the beginning of the end for call centers, but that's a discussion for another day.
Facebook Live
Meerkat and Periscope established livestreaming as a trend to watch. Now Facebook has sent the trend mainstream.
The Menlo Park outfit announced a new API which will give developers a way to plug Facebook's live streaming software into their own apps. This means you can expect to see the Facebook video player outside of Facebook soon, playing streams routed live from drones and third-party cameras apart from phones.
Facebook has announced a partnership with LiveStream, VidPresso, and BuzzFeed to get the ball rolling. LiveStream's Mevo camera – which simulates a multi-cam set-up and lets users edit live from their iPhone – will be the the first third-party camera that supports streaming to Facebook Live directly.
Account Kit
A seemingly counter-intuitive feature that Facebook announced at this year's conference was Account Kit. Using it, developers can have users login into an app with just their email or phone number, completely bypassing the Facebook login step. As a result, people without Facebook accounts (or those who don't remember their Facebook passwords) will be able to access apps by simply acknowledging a confirmation email or SMS.
In implementing Account Kit, Facebook is helping app-makers widen their reach, while increasing the chances of people who do have Facebook accounts eventually hearing about and signing up to use the app.
Profile Expression Kit (Profile Videos)
Facebook's profile videos are going to become more versatile, thanks to what they call a Profile Expression Kit. The update lets Facebook users create their 7-second profile video using third party apps. On doing so, the update is shared on users' News Feed, including an attribution to the third-party app and a link to install it. Current partners include Boomerang and Vine.
Facebook ARIES and Terragraph
Like the Aquila drone, Facebook's new connectivity systems will be used to carry the Internet to erstwhile digitally uncharted areas, or make it more easily accessible in places with slow or patchy connectivity.
Terragraph is a high-speed wireless Internet technology specifically designed for urban areas. Given its urban focus, the system will use light poles and similar street paraphernalia to carry hardware that will deliver gigabit speeds. Terragraph will face its first large-scale test in a pilot project to be launched in San Jose in the latter half of 2016.
ARIES (Antenna Radio Integration for Efficiency in Spectrum) is the more ambitious project of the two. The technology will make use of multiple antennas to beam the Internet into large areas, especially in rural regions. Facebook has shown in tests that the connectivity provided by ARIES antennas have a better transmission range and higher efficiency than conventional 4G networks.
Both ARIES and Terragraph are feats of hardware engineering, showing us that Facebook really will do anything to make more people use Facebook.
Automatic Tagging in Videos
Facebook has taken its facial recognition features a step forward, now supporting automatic tagging of friends in videos. The feature is a pretty cool addition considering that soon you will be able to search for videos based on which friends are in them, and search directly to points in videos where specific friends enter the frame. Automatic video captioning is also in the works, though it will be a while before it's introduced publicly.
Facebook's AI Backbone
Facebook is making more use of artificial intelligence. Surprise! Though that in itself isn't a revelation, the features brought to us by Facebook's AI backbone are noteworthy.
To deal with communication barriers, Facebook now has an automatic AI-based translation system; 800 million of its users have been able to make sense of posts in totally foreign languages as a result of the technology.
Image processing is a lot more advanced thanks to AI; it gives users the ability to search for images based on what's in the pictures instead of the friends tagged in them or their descriptive text.
Similarly, video classification will also get a facelift; using advanced computer vision technology, Facebook will be able to organize videos – including livestreams – based on their content, as opposed to tags and other explicit descriptors.
Oculus VR Selfie Stick
Oculus demoed an early prototype of what's been dubbed a "virtual selfie stick", though there's a lot more to it than the selfie stick. The concept lets you "visit" locations anywhere in the world using the Oculus Rift, and take a selfie of your avatar using a software selfie stick. The real power of the technology will lie in its ability to produce an accurate digital simulacra of users, a capability it doesn't have down quite yet.
Samsung and Microsoft Adopt React Native
React Native was created to help developers build native apps on Android and ioS using Facebook's React library. Now its scope has widened.
Microsoft announced support for React Native on its Universal Windows Platform (UWP), which will allow for it to be used to build apps for Windows 10 PCs, XBox One, and HoloLens. React will also come to apps on Samsung's smart TVs and wearables through support for it on Tizen OS.
——–
Feature image courtesy www.pc-tablet.co.in
Latest posts by Prateek Jose
(see all)