This has been a big month for transportation. We saw a solar car, an electric bus, and now, a detailed article from Lyft CEO John Zimmer claiming that most of their crowdsourced cabs will be self-driving cars within 5 years. Within 10 years, Lyft's entire fleet could be fully autonomous. With a $500 million investment from General Motors earlier this year, signaling the first partnership between a ridesharing company and an automaker, they could be right.
Zimmer believes that self-driving cars will help America rebuild its cities around people rather than cars—a vision not unlike the one Robin Chase expressed in her interview with SnapMunk earlier this year. That's no easy task. The American Society of Civil Engineers gave U.S. infrastructure a D+, meaning there are a lot of detours, potholes, and construction-filled highways for Lyft's computers to navigate.
There's also the psychological concern. Most people get a visceral feeling of danger when they get propelled forward by a driverless car for the first time. It's like being strapped into a rollercoaster: no matter how good it may look, you still have to cross your fingers that any engineers who touched the thing had their morning coffee.
In order to give ample time to overcome these practical and perceptual roadblocks, Zimmer envisioned a 3-stage solution: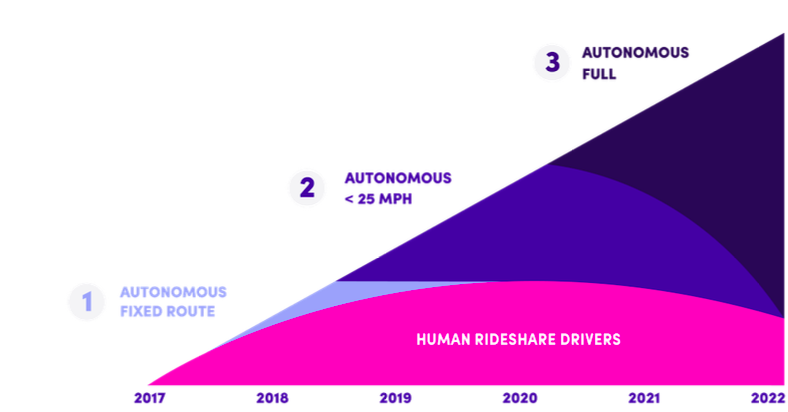 We're currently in phase 1, meaning no cars can be driven without a human in the front seat, ready to intervene. The cars that GM is introducing are electric and self-driving, and they recently purchased the startup, Cruise Automation for $1 billion to improve their navigation technology.
Phase 2 will be complete within 5 years, and will involve a "hybrid network." That means that some fully autonomous vehicles will be introduced alongside the human-operated ones. These fully autonomous cars come with a long list of restrictions; for example, they can only be driven on fixed routes and operated at slow speeds (less than 25 mph)—at least at the beginning. Eventually they will push the boundaries of the technology to introduce longer routes and faster speeds, until Phase 3. Phase 3 is a fleet of fully autonomous Lyfts by 2022. It could be the beginning of what Zimmer calls the "third transportation revolution." First trains, then cars, then a fully-integrated, big-data-driven, network of robotic chauffeurs.
Lyft isn't the only car company prognosticating about driverless cars. Uber's CEO Travis Kalanick thinks it will likely take 5-15 years for self-driving cars to saturate the market. Last week, Uber partnered with Ford on their own pilot program, introducing a limited number of self-driving Ford Fusions in Pittsburgh. Not a bad idea to start your driverless car experiment in a city that's known for steel. Hopefully nothing gets too dinged up.
This marks another huge partnership with an automaker. But like Lyft, Uber is still limited to semi-autonomous cars that require a human chaperone, and they've been less vocal about when they'll cut the umbilical cord and go fully autonomous. Your move, Uber.

Latest posts by Devin Greene
(see all)