What's the size of the prize when it comes to global sustainability? According to research by Accenture, there is $4.5 trillion reward for achieving sustainable businesses by 2030. How to get there? Something called the 'circular economy,' which has been described as the biggest opportunity in the last 250 years for how we organize production and consumption in our global economy.
Revelation to Revolution
Single-handed circumnavigation of the globe gives you a lot of time to think. It was during her history-making voyage in 2005, where she broke the world record for the fastest solo circumnavigation of the globe (sailing more than 26,000 miles in just over 71 days) that the importance of finite resources and a circular economy became very real to twenty-eight-year-old Ellen MacArthur, and became her life voyage's 'North Star.'
After consulting experts in the private and public sector, she retired from professional racing, and in September 2010 launched the Ellen MacArthur Foundation, with the goal of 'accelerating the transition to a regenerative, circular economy.'

Designing Waste Out
The dominant current global industrial model is linear and involves 'take, make and dispose,' and is inherently extractive in nature. A circular economy, however, is… well, circular. Meaning that it's restorative and regenerative by design – think: 'take, make, take, make, take, make.' How does this happen? Relying on system-wide innovation, it aims to redefine products and services to design waste out while minimizing negative impacts.
Designing waste out sounds great, but when it comes to actually doing it, it may leave many folks thinking, 'Easier said than done,' which is why in January 2017 the Ellen MacArthur Foundation and IDEO launched a New Circular Design Guide during the World Economic Forum in Davos. The Foundation developed the guide with input from leading businesses and over 400 students and specialist design institutions. It includes 24 methods and a resource bank enabling change makers, entrepreneurial innovators, and students to get to grips with what the circular economy is, and enabling them to re-think value creation to develop more circular products, services and resilient, feedback-rich organizations.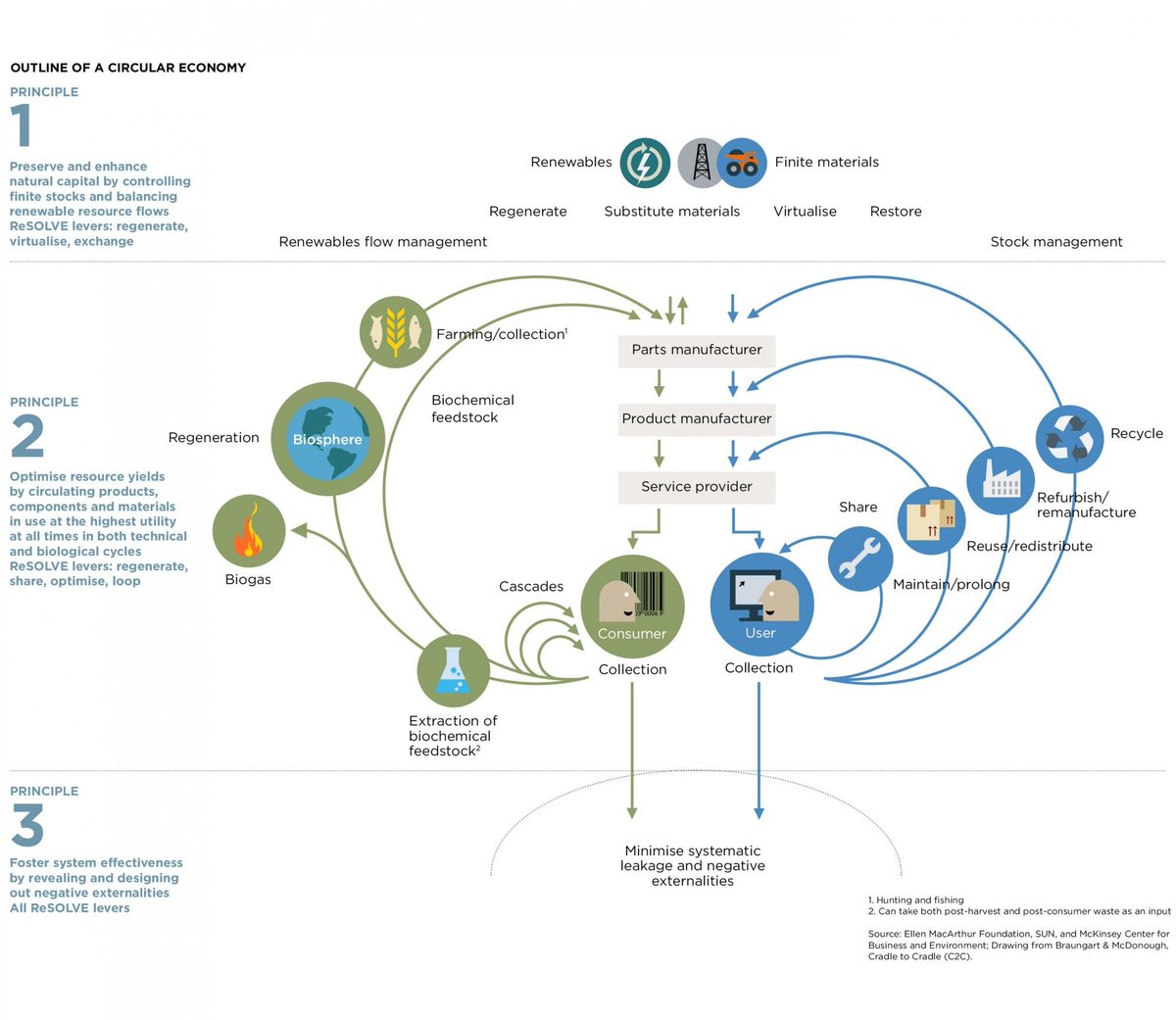 Disruptive Technologies
Certain disruptive technologies facilitate scale for companies that would like to embrace the circular economy. Digital innovations in mobile, social, big data analytics, cloud, and machine to machine communication (M2M) are especially effective in connecting physical and digital channels. Modular design and 3-D printing are not only revolutionizing both product form and function, but also the length and nature of customers' relationships with those products.
Some examples:
Stepping up to the Plate
The so-called "triple bottom line" – a concern for people and planet (there is no Planet B) along with profit aka future-proofing growth – is why multinationals, as well as startups, are stepping up to the circular economy plate.
In February this year, Unilever expressed its commitment to the circular economy, announcing that by 2025 all of its plastic packagings will be either reusable, recyclable or compostable. Along the same lines, TIPA, a sustainable packaging tech startup from Israel, is trying to help us clean up our act by providing compostable, biodegradable packaging solutions for the food industry, while the previously mentioned w.r. yuma products are designed for disassembly so they can be easily taken apart for recycling.

Latest posts by Gail Barnes
(see all)